Land and Table offers frequent events to connect, educate, and inspire new agrarians, young farmers, homesteaders, local food lovers, and anyone interested in regenerative agriculture.
Since late 2011 we have been hosting monthly potlucks at various farms, cultural centers, and other venues around the Lynchburg, Virginia region.
We currently host monthly potlucks in the following areas:

Third Tuesday of each month.

Third Saturday of each month.
Coming soon: an overview of upcoming events
Save the date for the third Tuesday and third Saturday of each month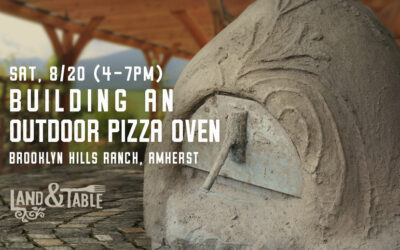 Earthen building with cob construction methods is an ancient but timeless way to bring dreams to reality using local materials. Join us at Brooklyn Hills Ranch on Saturday, August 20 (4-7pm) for a potluck and hands-on skillshare where we will demonstrate how to build an outdoor pizza oven using cob building techniques.
read more