Join Us
Since late 2011 we have been cultivating connections in the Lynchburg, Virginia area local food movement and building a supportive community for young farmers, new agrarians, backyard growers, and local food lovers. We are passionate about local food and sustainable agriculture and invite you to join us!
Upcoming Events and Updates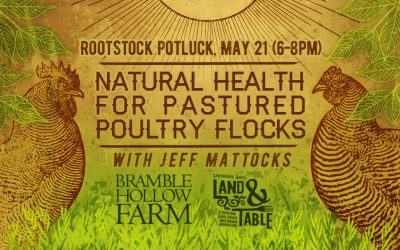 Join us Tuesday, May 21 (6-8pm) for our monthly Root Stock potluck. Hosted by Bramble Hollow Farm in Montvale, we will hear from guest speaker Jeff Mattocks, renowned poultry nutritionist, who will be talking about how to optimize the natural health of pastured poultry flocks.
read more