<![CDATA[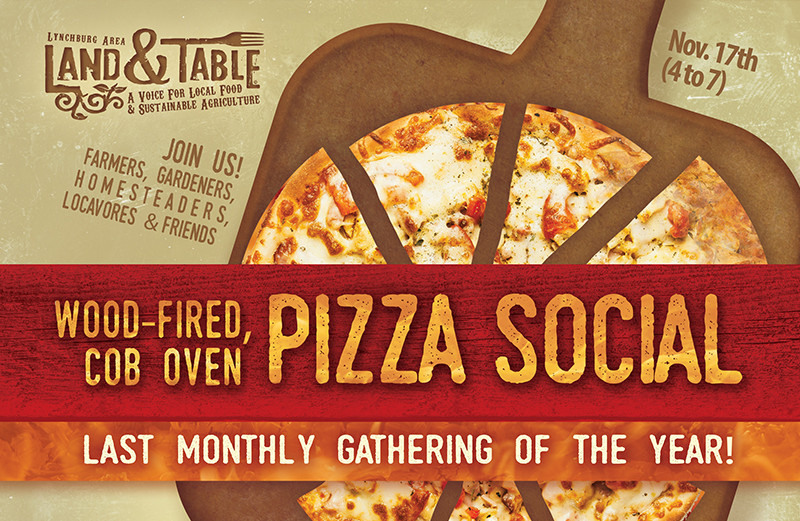 It's been a busy year for Land and Table – giving talks in the community, hosting monthly learning/socializing/discussion potlucks, helping organize a local farm-to-table fundraiser, advocating for the local food movement at the local government level, encouraging farming and homesteading skills, and helping to shift the food culture in our region. We are blessed by all of you who have been involved with our monthly gatherings and we count it a privilege to be a part of the good work of community-building and networking the local food movement in the Lynchburg area. To wrap up our year of monthly gatherings (we will not be meeting in December) we are gathering  on Tuesday, November 17th (4 to 7pm) with a wood fired, cob oven baked, PIZZA SOCIAL! Just bring cheese for shredding and a topping  or two to share. Learn about cob oven baking and tell stories around the campfire. Join us! And don't forget to RSVP (see below). For those of you who can't make it we'll see you in January!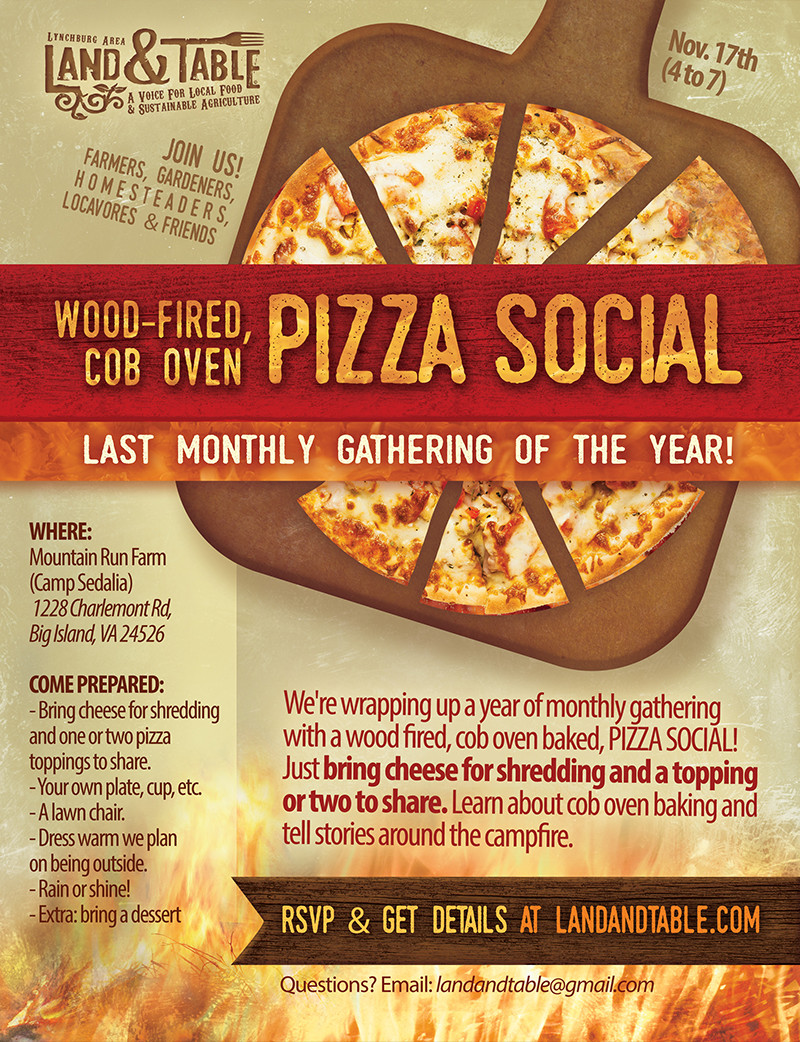 Event Details:
When
: Tuesday, November 17 (4-7pm)
(NOTE: time change back to 4-7 for the Winter months.)
Come when you can (even late if needed) and leave when you need to. This will be a social event with no set agenda but eating and being together.
Come Prepared
:
Bring cheese for shredding and one or two pizza toppings to share.
Your own dishware (plates, forks, spoons, cups, etc – for your own use).
Lawn chair (there will be benches as well).
An optional cash donation of any amount (if you benefit from and appreciate the work of Land and Table)
Dress warm – there will be a campfire but we will be outside.(Please note: This is an outdoor, rain or shine event under picnic shelters)
Location
: Camp Sedalia at
Mountain Run Farm
– pull in to the showbarn at
1228 Charlemont Rd, Big Island, VA 24526
but…
keep driving straight back to the camp!
]]>