<![CDATA[[caption id="attachment_583" align="aligncenter" width="590"]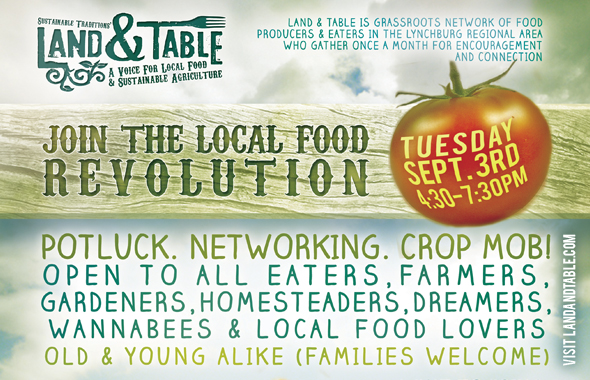 Potluck, networking and crop mob at Mountain Run Farm – Sept 3[/caption] Five months ago we began our Land and Table Community Tour – gathering at various hidden (and not so hidden) hotspots within the local food movement around the area (farms, a farmers market, etc). We only skimmed the surface and hope to continue in coming months, but this month we are back at one of our favorite places – the Mountain Run Farm saloon/farm store. For those of you who have never attended one of our monthly gatherings, Ben and Carly Coleman of Mountain Run Farm raise grass fed beef and pastured pork not far from the Peaks of Otter in Sedalia (Bedford County). They are an inspiration to many of us who are eaters, homesteaders and food producers. Their willingness to share their wisdom as they journey towards a more holistic management of land and animals has impacted many in the community. Please join us for a relaxing evening, September 3rd, 2013 (from 4:30 to 7:30 pm), enjoying one of the region's best community potlucks, meeting and networking with old friends and new friends alike, and leveraging the power of community to clear Ben and Carly's garden. This gathering is open to anyone in the regional community interested in the connecting with others in the Lynchburg area local food movement. Families are welcome.
DETAILS:
WHAT WILL WE BE DOING?
Community Potluck
Networking (hang out with local food movement friends and meet some new ones)
Crop mob/community weed pull (bring work gloves)
COME PREPARED:
Bring a homemade healthy dish to share (emphasis on sourcing local ingredients but not required). Also, if you can, please label your dish with your name & what you made (helpful but also not required)
Bring your own dishware (plates, cups, utensils, etc)
Bring lawn chairs or a blanket to sit on. (This event is rain or shine)
TIME & PLACE:
Tuesday, September 3, 2013 (4:30-7:30 pm)
Mountain Run Farm
(saloon/farm store – near the pond) in Bedford County, Virginia (Sedalia) Address: 2734 Charlemont Rd, Big Island, Va 24526 (
view map
)
This gathering is open to everyone in the regional community.
Please RSVP by sending an email to: Jason [at] SustainableTraditions [dot] com . Also feel free to RSVP and spread the word on Facebook.
Download the event flyer:
here
[pdf http://landandtable.com/wp-content/uploads/2013/08/sept-2013-land-table-event-flyer-lo.pdf 590 750] ]]>