<![CDATA[[caption id="attachment_573" align="aligncenter" width="590"]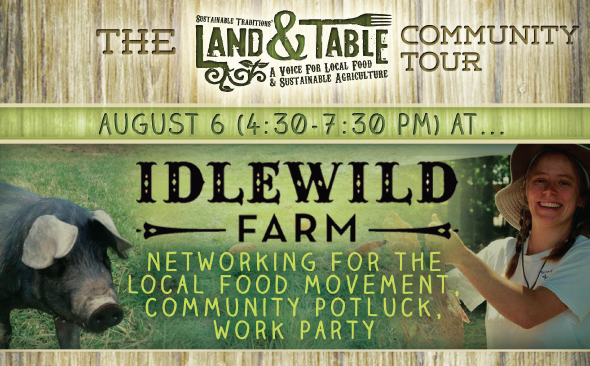 Land and Table at Idlewild Farm[/caption] We're back with another stop on the Land and Table community tour. Each month we have been meeting at a different location – exploring farms within the Land and Table network as well as other various places that are significant to our region's local food movement. There is alot to see and we are grateful to everyone who has hosted our monthly gatherings so far. If you have not experienced any of these events yet please come out. Newcomers are always welcome and families with kids are encouraged (my wife and I have six kids ourselves). The reason we continue to organize these events is because of our belief in cultivating relational connections among producers and consumers who are pursuing the holistic health of both land and body. Community is the true infrastructure by which a healthy local food economy is grown and we want to help facilitate these important connections at a grassroots level. For our next gathering we will be coming together August 6th (4:30-7:30) for an evening of networking, community potluck and a "crop mob" activity. We will be hosted by our sustainable farming friends Doug and Lucy Overstreet at the newly relocated Idlewild Farm in Bedford County. We will have the unique opportunity to help them prepare a recently cleared, soon-to-be chicken paddock by spreading straw, etc. This is a great chance to be a part of the rebirth of Idlewild as they are starting from scratch on new land. Idlewild Farm maintains a faithful presence at the Forest Farmers Market (located at the Forest Public Library) every Saturday, offering their customers pastured heritage breed pork, pastured chicken, and fresh free-range, non-GMO eggs. Their products can also be found at The Well health food store in Bedford. From the Idlewild Farm website:
"We run our farm with the goal of improving the soil to fully nourish the plants and animals. Our methods seek to provide food packed with nutrients – not chemicals, fillers, antibiotics, or GMOs." "A few years back we moved to Doug's hometown, Bedford, and onto the family farm.  His dad gave us a small flock of hens and a rooster and we plowed up the backyard for garden space.  The next seasons of growing plants and raising animals provided a never-ending classroom.  We learned what worked and what didn't quickly.  Perhaps the most important thing we learned was that great food comes from caring for the land, and this we do wholeheartedly, on a daily basis. We found that taking care of the soil and its many inhabitants is the best place to start.  We have grown from the laying hens to pigs, broiler chickens, bees, and hope to keep expanding to beef cows, orchards, and maybe even a milking cow."
DETAILS:
WHAT WILL WE BE DOING?
Potluck
Networking
Learning about Idlewild Farm
Helping prepare a newly cleared future chicken paddock (laying down straw for grass seed, etc.)
COME PREPARED:
Bring a homemade healthy dish to share (emphasis on sourcing local ingredients but not required). Also, if you can, please label your dish with your name & what you made (helpful but also not required)
Bring your own dishware (plates, utensils, etc)
Bring lawn chairs or a blanket to sit on.
TIME & PLACE:
Tuesday, August 6th (4:30-7:30 pm) Address: 1684 Magnolia Dr. Bedford VA  24523 (
view map
)
(Directions: Take 460 west out of Bedford city approximately 5 miles turn left onto Magnolia Dr.(next state road after the Moose Lodge)  Property is on left about 1/2 mile down Magnolia.  if you get to Von Roy Rd.  you have gone too Far.)
This gathering is open to roughly around 30 people so please RSVP by sending an email to: Jason [at] SustainableTraditions [dot] com (If you have questions I will not be available to respond to your email until the weekend before the event). Also feel free to RSVP and spread the word on Facebook.
Download the event flyer:
here
[pdf http://landandtable.com/wp-content/uploads/2013/07/land-and-table-flyer-aug-2013.pdf 590 750]]]>