<![CDATA[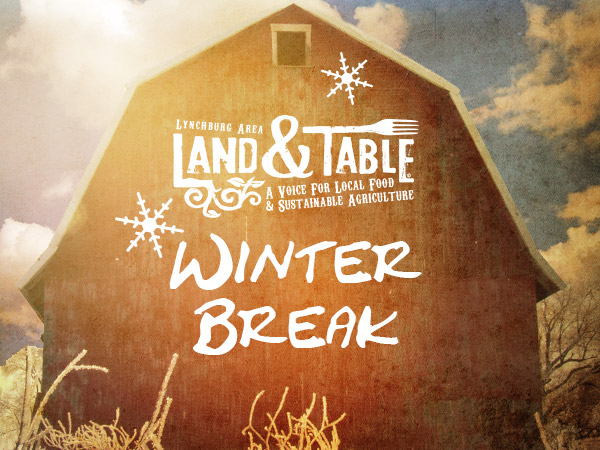 We will continue our winter break this month as we ease into the new year. Though we will not be hosting a January potluck gathering we want to hear from you about the kind of forum topics, mini-workshops, skill-sharing sessions, guest-speakers, and work parties that you would like to see us focus on this year. Make your way over to our contact form and email us your ideas! Whether you have been a part of our monthly gatherings for some time or have never attended any of our events, there are a handful of ways that you can get involved in the Land and Table vision and mission: Join us for our Monthly Networking Potluck If you are a farmer, gardener or local food advocate and you have never joined us for our monthly gatherings please consider joining us – mark the third Tuesday (evenings) of each month, sign-up for our email updates and follow us on Facebook to get event details a week or two before each gathering. Host a Land and Table Gathering If you own a sustainable farm, organic garden, homestead or other local food/agriculture-related location in the Lynchburg/Bedford area and you would like to host one of our Land and Table monthly potluck gatherings please let us know. You must be able to accommodate parking and facilities for approximately 30 adults (and varied amounts of children). We often meet at Mountain Run Farm in northern Bedford County be we also like to tour other farms and projects who are involved in local food production and sustainable agriculture throughout the area. Become a Land and Table supporter Because Land and Table is a labor of love that we do on the side we have always operated on a shoe-string budget (or no budget at all). For three years we have hosted monthly networking potlucks but we have a vision to do more. We want to:
Develop Marketing Resources: Create a marketing program that local producers and food entrepreneurs can leverage to communicate the value of local food to the community.
Create a Local Buyers Guide: Create and publish an online directory and Local Buyer's Guide for the Lynchburg area with a focus on sustainable and chemical-free farms, etc.
Host Regular Workshops: We often include educational aspects in our free monthly potlucks but there is often not enough time to dig in deeper. We would love to host more in-depth workshops on various food production and homesteading topics.
To sink our roots into this expanding vision we will need to re-imagine Land and Table as something more than a grassroots network. We have thrown around the idea of becoming a non-profit and we continue to lean into this possibility. Join us as we consider ways to resource this vision. This year we hope to start fundraising by releasing an original 'Grow Local' Land and Table t-shirt and bumper sticker that will be available on a per donation basis. Help us cultivate a lasting impact for food producers and eaters alike.
Thank you!
It's been an honor to be a part of the growing Lynchburg/Bedford area local food movement over the past three years and we anticipate 2016 as being another important year of strengthening our regional foodshed and the families that it supports. Thank you to each of you who have and continue to be a part of the Land and Table community.]]>