<![CDATA[
Apple season will soon be coming to an end but the love of apples is always in full bloom. If you've ever dreamed of having your own apple orchard or if you just want to learn more about apples, join us Tuesday, October 20th (5 to 8pm) for a walk through Ivy Branch Orchard as we talk with local orchardist and heirloom apple enthusiast John Hoskins (owner of Ivy Branch Orchard) and world renowned apple expert and author Tom Burford (aka: "Professor Apple"). Bring your questions, bring your curiosity and come to glean all you can from these passionate apple cultivators. https://youtu.be/GPq3-CB-JmM?t=55s Come Prepared:
Healthy, yummy food to share (the more homemade the better!)
Your own dishware (plates, bowls, cups, silverware, etc.)
Your own lawn chair(s) (We will be outside)
Bring a flashlight or camping lantern (as the meeting ends the sun will be going down)
When and Where:
Oct. 20th(5-8pm) Ivy Branch Orchard (
5209 Coffee Rd, Forest, VA
*)
Direction notes:
Ivy Branch Farm/Orchard is on Coffee Rd in Forest, Virginia. If you are coming from Lynchburg take Perrowville Rd, turn right onto Coffee Rd and go approximately 2 miles – turn into the driveway on the left after Wineberry Lane. Look for the Land and Table sign, the stone foundation by the driveway, and the 10 foot deer fences surrounding the orchard on the hill (there is also a large wooden giraffe on the hill).
*PLEASE NOTE: THIS IS NOT OUR TYPICAL MONTHLY MEETING PLACE
Proposed Schedule:
5:00 to 5:30 – arrive and networking 5:30 to 6:30 – orchard walk and walking conversation 6:30 to 8:00 – eating and question and answer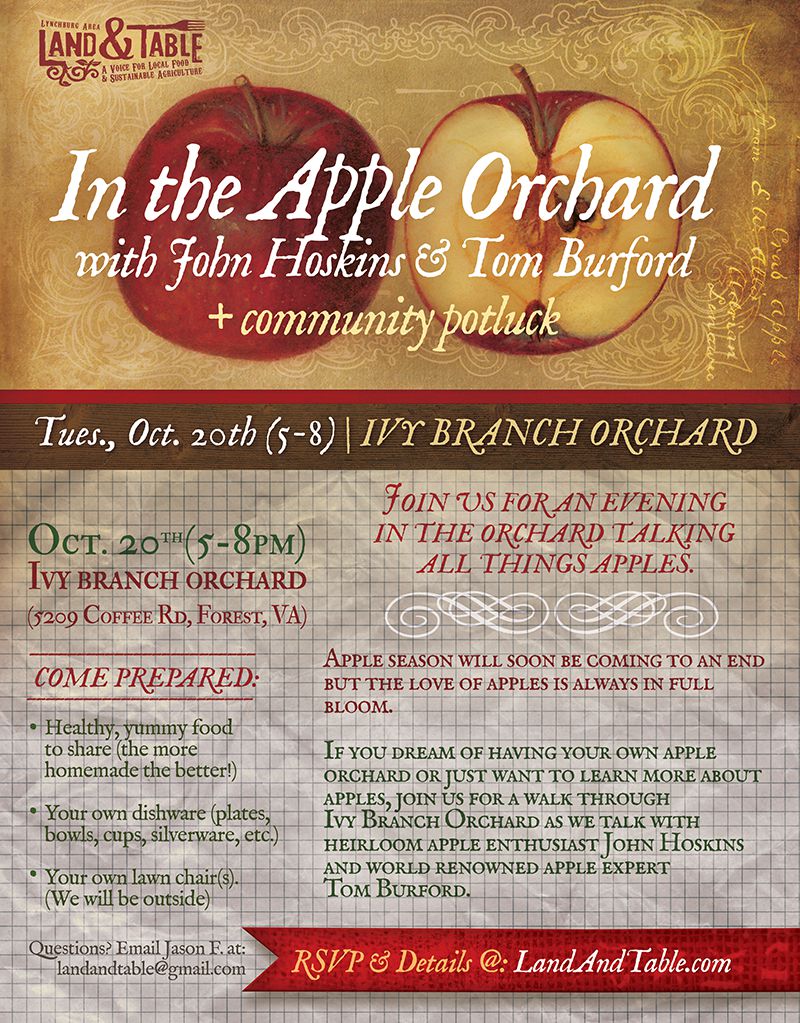 ]]>