<![CDATA[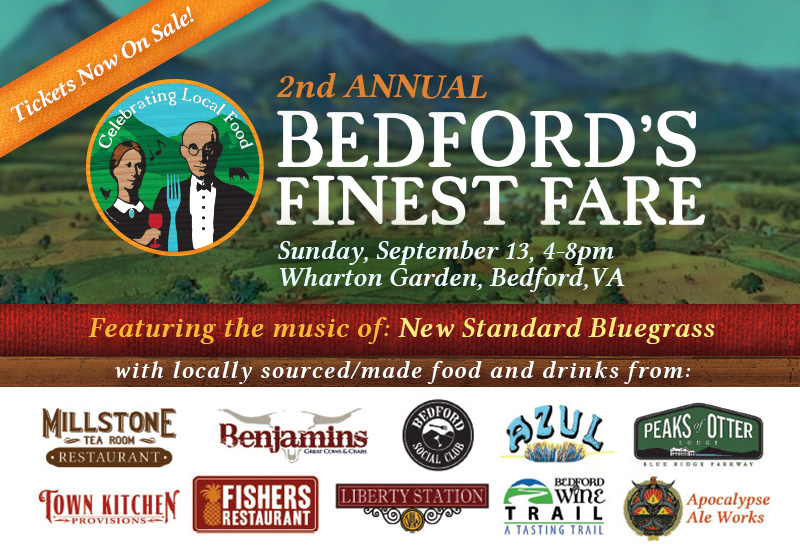 Land and Table has the privilege of again being a sponsor and a part of the planning process for the annual farm to table food event Bedford's Finest Fare on Sunday, September 13, 2015 (4 to 8pm). This second annual Bedford County celebration of local food and drink will feature an expanded lineup of stellar restaurant chefs plus local wineries, a local brewery, local farms, and the bluegrass sounds of well-known band New Standard Bluegrass. If you did not attend last year it was a phenomenal evening of music and delicious local foods. As a fundraiser for the Bower Center for the Arts, this event is a unique community gathering to celebrate the combined efforts of local farmers, together with local chefs, to produce an amazing small plates feast of mouth-watering culinary offerings. After the success of last year's Finest Fare – this year will feature an expanded space (from the Wharton Garden to the road – which will be closed off) with room for a hundred more folks than last year (tickets limited to 300) to dine and dance with even more local food, beer, and wine to sample throughout the evening – plus new ticket options for those of you who may just want to come for the music. Enjoy the hometown spirit of Bedford's 'Centertown' as you celebrate the local tastes and sounds that Bedford County and the Lynchburg region have to offer. It truly will be an evening to remember. This year's lineup of restaurant's include:
Azul's (coming soon from the folks at Bedford Social Club)
Featured local drinks will include beer and wine from:
From the
Bower Center website
:
Join us for an evening at the Bower Center for the Arts on Sunday, September 13, 2015, 4 to 8pm, and come enjoy a wonderful evening of great food, beverages, and entertainment in The Wharton Garden. Bedford's Finest Fare will celebrate Bedford's vibrant local foods and beverages. Local chefs will offer a sampling of mouth-watering gourmet appetizers, entrees, and desserts featuring locally-grown and raised meats, fish and produce from throughout Bedford County and several regional producers.  An array of beverages will include beer from Apocalypse Ale Works and local wines. In addition to tasting this sumptuous fare, you can also visit local producers of food, beer and wine at their display tables.
---
Get Exclusive Updates About the Upcoming Event
at the Bedford's Finest Fare Facebook page
Get Your Tickets Now (only 300 will be sold):
$30 in advance. $35 at the gate. $15 for kids 12 and under. Kids 5 and under: free. $10 for band only, no food/beverages. Tickets available online at:
www.lynchburgtickets.com
And also in person at: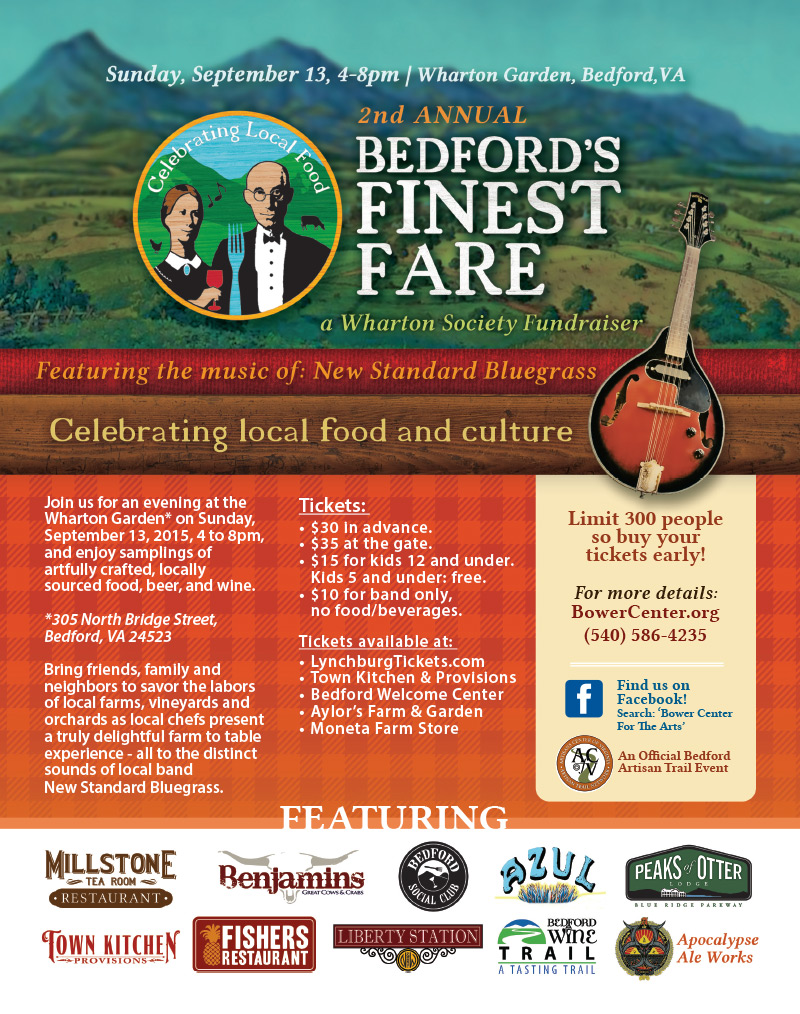 2nd Annual Bedford's Finest Fare (click image to view flyer for printing)[/caption]]]>