<![CDATA[[caption id="attachment_1282" align="aligncenter" width="600"]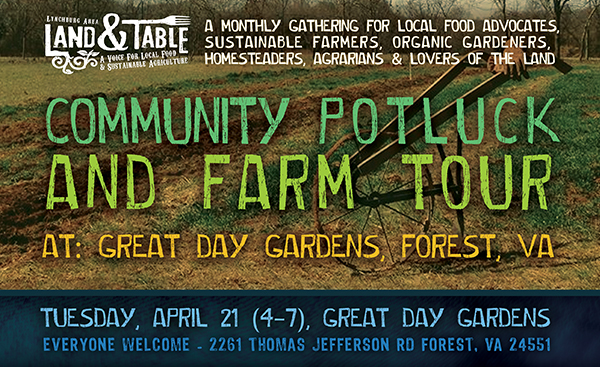 Community Potluck and Farm Tour at Great Day Gardens – April 21[/caption] A new generation of farmers is cropping up in the Lynchburg/Bedford area. This coming Tuesday, April 21 (4 to 7 pm) join us for our monthly community potluck as we are hosted by Michael Grantz and Arden Jones of Great Day Gardens. Great Day Gardens is a small farm in Forest, Virginia focused on growing healthy, natural vegetables, baking artisan breads with wholesome ingredients… and more to come! A quick word from Michael and Arden:
"We are just starting our first year as a small market farm, Great Day Gardens.  We are fortunate to be able to farm on Arden's family land which they have owned since the '60s. We are growing vegetables on less than 1 acre and we have laying ducks. A large part of our business is in baking sourdough breads, which we also take to the Forest Farmers' Market and the Grandin Village Market in Roanoke. We are doing a small CSA this year and are hoping to reach out to the community and host educational events through the season!"
========================================
When
: Tuesday, April 21st (4-7pm) (4-5) Arriving and Networking (5-6) Eating and Hanging Out (6-7) Farm Tour
Bring
: 1) A healthy dish to share. 2) Your own dishware. 3) Lawn chairs or blanket to sit on. 4) An optional cash donation of any amount (to help us grow Land and Table)
Location
: Great Day Gardens,
2261 Thomas Jefferson Rd Forest, VA 24551
Directions:
If coming from 221, take a right onto 811 (Thomas Jefferson Road) after you pass through the 2nd stoplight (Everett Road), Great Day Gardens is the first driveway on the right.
There is a small white sign that says "Merrywood"
(with white tulips possibly in bloom by the driveway). Look for the large old white farmhouse. Parking in the driveway or up in the field to the left (between the house and barn).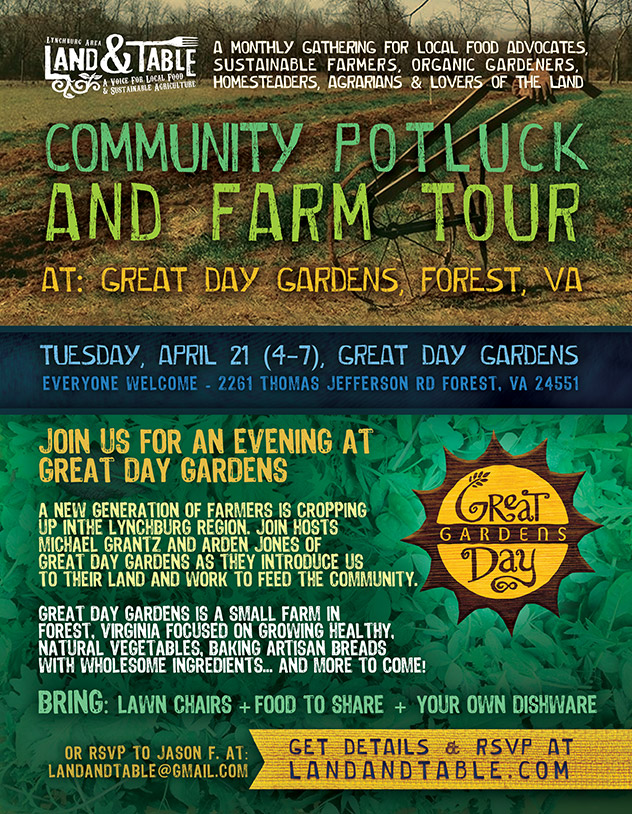 ]]>