<![CDATA[[caption id="attachment_1144" align="aligncenter" width="600"]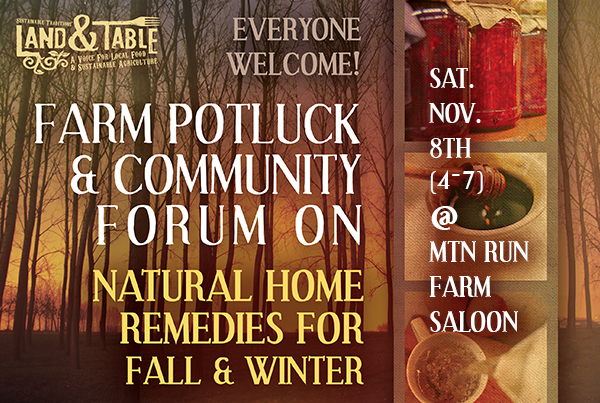 Land and Table potluck this Saturday![/caption] If you are like our family you are always looking for ways to stay healthy as Fall turns to Winter and the cold weather challenges our immune systems. As we come together for our November Land and Table farm potluck this Saturday, November 8th (4-7) at the Mountain Run Farm saloon, we will be holding a forum discussing natural home remedies for Fall and Winter. Come with your own remedies and learn from others. If you are feeling especially industrious print out copies of directions for making your natural remedy or remedies on a smaller paper to share around. Everyone is welcome – our monthly potlucks are a great way to connect with other farmers, homesteaders, local food advocates, gardeners, families, friends and others throughout the Lynchburg region who are passionate about intentional living, sustainable agriculture and community flourishing. =========================== DETAILS: WHAT WILL WE BE DOING? (4:00-5:00 pm) Arrive and networking (5:00-6:00) Potluck and more networking (6:00-7:00) Community Forum: 'Natural Home Remedies For Fall and Winter' COME PREPARED:
Bring a homemade healthy dish to share. Label your dish with your name and food description.
Bring your own dishware (plates, cups, utensils, etc) (A dishwashing area will be provided).
Come ready to talk about your natural home remedies or just learn from others (or both!)
TIME & PLACE:
Saturday, November 8th, 2014 (4:00-7:00 pm)
Mountain Run Farm
(saloon/farm store – near the pond) in Bedford County, Virginia (Sedalia) Address: 2734 Charlemont Rd, Big Island, Va 24526 (
view map
)
This gathering is open to everyone in the regional community. The goal of our monthly meetings is to network, support and build community for those who are passionate about local food, intentional living, sustainable agriculture and community flourishing.
================================================= [caption id="attachment_1143" align="aligncenter" width="600"]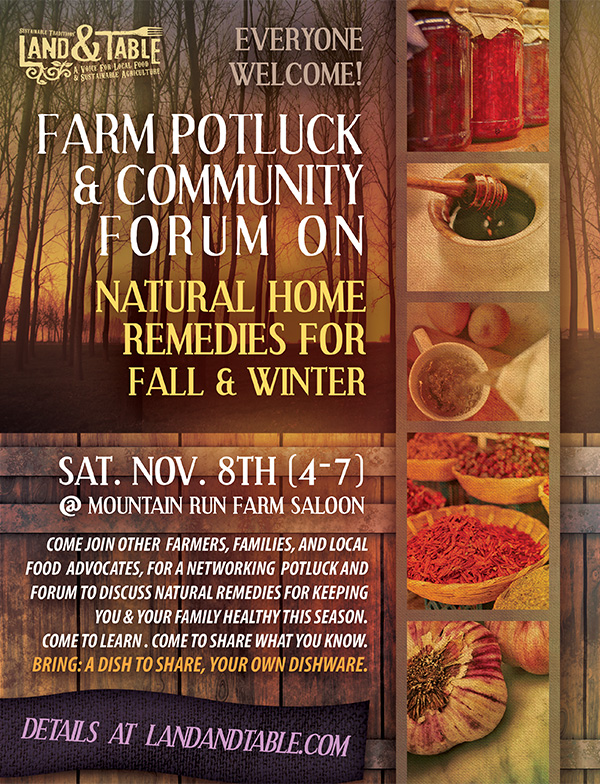 Land and Table gathering November 8th, 2014[/caption]]]>