<![CDATA[(Note: Don't forget! For those of you who can make it – Sunday, September 14 (the day after our monthly potluck) is Bedford's Finest Fare, a fundraiser for the Bower Center for the Arts, that will be featuring incredible local foods prepared by local culinary masters plus music and local beer and wine. Land and Table is a sponsor and there will be several farms in our network represented there plus others you don't want to miss.) ================================================= The monthly Land and Table community potluck is for independent & sustainable farmers, local food lovers, homesteaders, organic gardeners, new agrarians, dreamers & wannabees…and anyone in-between. Since late 2011 we have been gathering to share our thoughts, to eat together, encourage one another, learn, work, network or just to enjoy an evening of being together. Our upcoming gathering will be at Bramble Hollow Farm on Saturday, September 13th, from 4-7 pm. Our friends at Bramble Hollow will be leading a discussion on three of the most-used pastured chicken breeds and we will be doing an accompanying hands-on chicken processing for those of you who are interested in raising meat chickens for your family or for local direct-to-consumer production. (Please note: This how-to skillsharing will include the humane killing of live birds.)
Bramble Hollow Farm
is a small family farm with a focus on pasture-based sustainable agriculture and premium heritage breeds of pastured pork, poultry and fresh eggs. They have been featured in the
Roanoke Times
,
Natural Awakenings Magazine
, by agrarian author, cultural/economic critic and farmer
Gene Logsdon
and are members of the
American Pastured Poultry Producers Association
,
American Livestock Breeds Conservancy
,
Virginia Association of Biological Farmers
, and the V
irginia Independent Consumers and Farmers Association
. ===========================
DETAILS:
WHAT WILL WE BE DOING?
(4:00-4:30pm) Arrive and Networking (4:30-5:30) Pastured Chicken Breeds Discussion and Hands-on Chicken Processing Demo (5:30-6:00) Break/Informal Self-tours/Networking (6:00-7:00) Potluck
COME PREPARED:
Bring a lawn chair or folding chair (we will meet outside).
Bring a homemade healthy dish to share. Label your dish with your name and food description.
Bring your own dishware (plates, cups, utensils, etc) (A dishwashing area will be provided).
TIME & PLACE:
Saturday, September 13th, 2014 (4:00-7:00 pm) Address: 2108 Hutchens Road Montvale, Virginia 24122
=================================================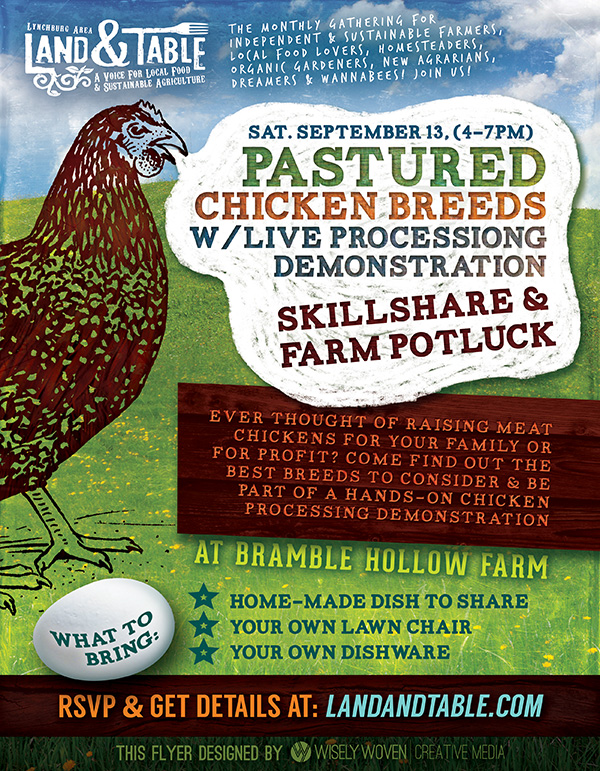 =================================================
View Larger Map
]]>