<![CDATA[[caption id="attachment_935" align="aligncenter" width="600"]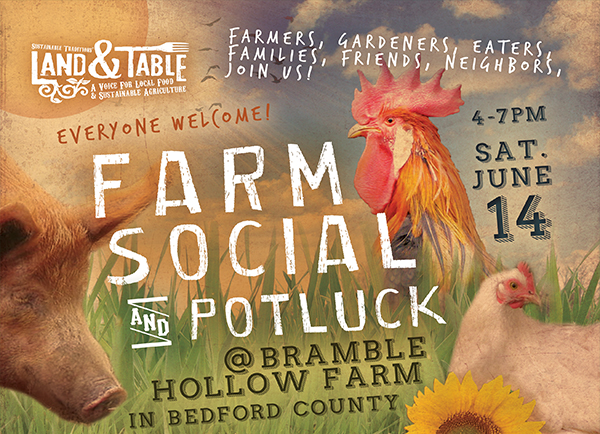 Our next monthly potluck is coming up June 14th.[/caption] Our next monthly potluck is coming up and we are switching it up with a visit to our friends at Bramble Hollow Farm. A part of the Land and Table network of farms, Bramble Hollow Farm is a small family farm with a focus on pasture-based sustainable agriculture and premium heritage breeds of pastured pork, poultry and fresh eggs. They have been featured in the Roanoke Times, Natural Awakenings Magazine, by agrarian author, cultural/economic critic and farmer Gene Logsdon and are members of the American Pastured Poultry Producers Association, American Livestock Breeds Conservancy, Virginia Association of Biological Farmers, and the Virginia Independent Consumers and Farmers Association. To learn more about them visit: http://www.bramblehollowfarm.com/
DETAILS:
WHAT WILL WE BE DOING?
(4-5pm) Networking (5-6pm) Community Potluck (6-7pm) Informal forum, farm tour, continued networking
COME PREPARED:
Bring a lawn chair or folding chair (we will meet outside).
Bring a homemade healthy dish to share. Also, if you can, please label your dish with your name and what you made that would be helpful.
Bring your own dishware (plates, cups, utensils, etc) (help us keep unnecessary trash out of the landfill) (A dishwashing area will be provided).
TIME & PLACE:
Saturday, June 14th, 2014 (4:00-7:00 pm) Address: 2108 Hutchens Road Montvale, Virginia 24122
View Larger Map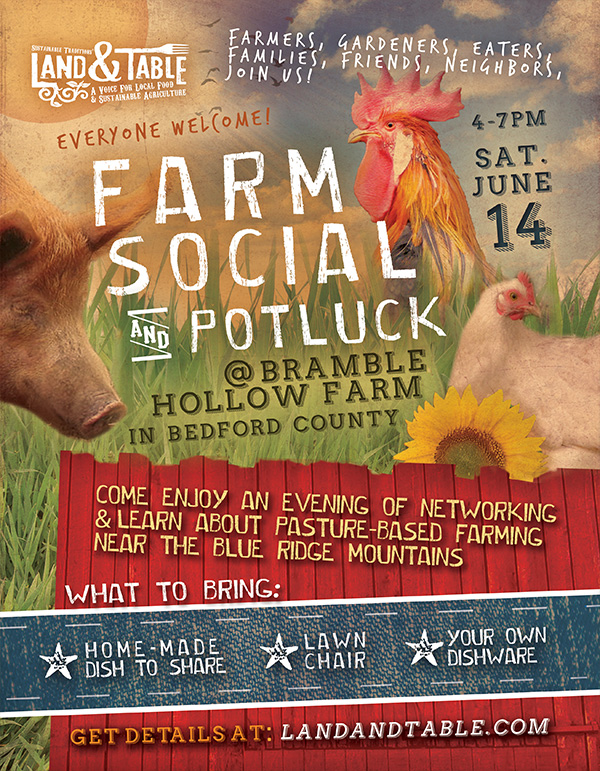 Download the color flyer (14mb PDF)
Download the greyscale flyer (1mb PDF)
]]>