<![CDATA[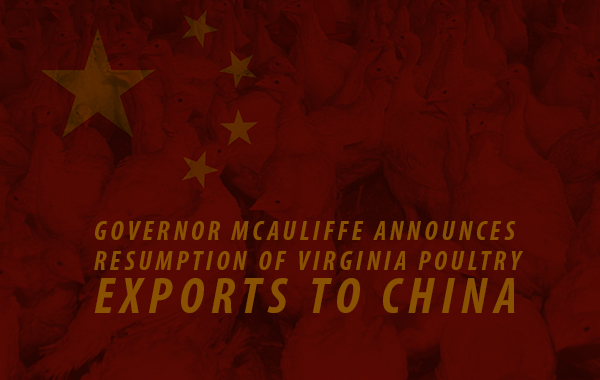 There has recently been extensive work at the Virginia state level to reopen trade with China after they imposed a seven year ban on Virginia poultry imports. From the desk of the Virginia state Agriculture and Forestry Secretary:
5 May 2014 RICHMOND – Virginia Governor Terry McAuliffe announced today that after almost seven years Virginia poultry exports will resume to the People's Republic of China.  The McAuliffe administration learned earlier today from Chinese and U.S. officials that the ban, instituted in July 2007, has been rescinded by China's General Administration of Quality Supervision, Inspection and Quarantine (AQSIQ) and China's Ministry of Agriculture (MOA).

 

"This is outstanding news for Virginia's poultry industry and the many related businesses that work to move product from our family farms into the global marketplace," said Governor McAuliffe.  "Strengthening Virginia's economy is my number one priority and the lifting of this ban is certainly good news for Virginia's economy.  Poultry is the largest individual sector of Virginia's agriculture industry and increased exports will help support farm, processing, and transportation related jobs in the Commonwealth. This will also bring enormous business benefits to the Port of Virginia at a critical time for that entity." In recent months, Governor McAuliffe and Virginia Secretary of Agriculture and Forestry Todd Haymore have discussed the issue with top officials from China's Embassy in Washington, D.C., including AmbassadorCui Tiankai; the newly appointed United States Ambassador to China, Max Baucus; United States Secretary of Agriculture Tom Vilsack; and United States Trade Representative, Ambassador Michael Froman.  The McAuliffe administration's focus on resolving this trade issue built upon work that Virginia officials, including former Governor Bob McDonnell, Senator Mark Warner, Senator Tim Kaine, Congressman Eric Cantor (R-VA 7th), Congressman Bob Goodlatte (R-VA 6th), and Congressman Robert Hurt (R-VA 5th), among others, have done over the past several years to re-open the Chinese market to Virginia poultry.  Hobey Bauhan of the Virginia Poultry Federation, Jim Sumner of the U.S.A. Poultry & Egg Export Council, and others in the private sector have been instrumental in Virginia's work with U.S. authorities and Chinese government officials. "Addressing China's ban on Virginia poultry has been a real team effort," added Governor McAuliffe, referencing work conducted by staff from the Virginia Department of Agriculture and Consumer Services (VDACS) in coordination with federal officials from the United States Department of Agriculture Animal Plant Health Inspection Service (USDA APHIS) and the Office of the United States Trade Representative (USTR).  "The USTR and USDA made resolution of this issue a priority and worked closely alongside Virginia's individual efforts to address the matter.  I also want to thank Ambassador Cui and the Chinese Embassy staff for their attention and work to resolve this important issue." Since 2007, following an isolated case of low pathogenic avian influenza (LPAI) reported on a single farm in Virginia, China has maintained a ban on all poultry produced in Virginia, poultry transiting through Virginia, and poultry that is exported from any port in Virginia.  Virginia officials have long contended that China's ban was not justified by scientific data, as the isolated LPAI occurrence did not pose a food safety or poultry health risk.  Because of the ban, Virginia had been excluded from taking advantage of business in this high growth market.  China is currently one of the top foreign markets for U.S. poultry, purchasing more than $416 million in 2013, with Georgia, Mississippi, and North Carolina as leading suppliers. Virginia's work to resolve the ban with federal and Chinese officials began in late 2007 under then-Governor Kaine.  During Virginia trade missions to Asia in 2011 and again in 2013, then-Governor McDonnell and Secretary Haymore held meetings with government officials in China regarding the poultry ban.  As a result of discussions with Chinese officials, in March of 2013, Virginia worked with federal officials from USDA APHIS and USTR to host a technical delegation from the Chinese regulatory agencies that were responsible for the ban.  The technical delegation conducted site visits and meetings in Virginia, examining farm and food safety protocols and testing.  This work, along with other efforts over the last seven years, ultimately led to the resolution of the ban. "Based on China's current poultry purchases from other nearby states, we believe that Virginia stands to gain $20 million or more in export sales each year," stated Haymore. "China is a good market for certain items that are not of high value in the domestic market, but can be an important income generator for poultry processors.  Chicken feet and wing tips are considered a delicacy in some parts of China.  Reopening the market to these Virginia products adds commercial value to the product.  Chicken feet and wing tips may be worth a few cents per pound in the domestic market but can sell for many times this amount in China." China ranked as the number one market for Virginia's agricultural exports in 2013 with more than $580 million in purchases.  However, the country's market has remained closed to Virginia poultry products for the past seven years.  The total value of Virginia poultry exports exceeded $186 million in 2013, with China absent as a major potential market for Virginia.   Agricultural and forestry exports from Virginia reached a record high of $2.85 billion in 2013. The poultry industry is the largest individual sector of Virginia's agriculture industry.  With annual farm cash receipts in excess of $950 million, poultry accounts for more than 30 percent of all Virginia's cash receipts from agriculture.  Virginia's poultry industry depends on fair access to foreign markets in order to support continued prosperity. According to a 2013 economic impact study conducted by Weldon Cooper Center for Public Service at the University of Virginia, agriculture is Virginia's largest industry, generating more than $52 billion per annum. The industry also provides more than 310,000 jobs in the Commonwealth.
]]>