<![CDATA[[caption id="attachment_707" align="aligncenter" width="600"]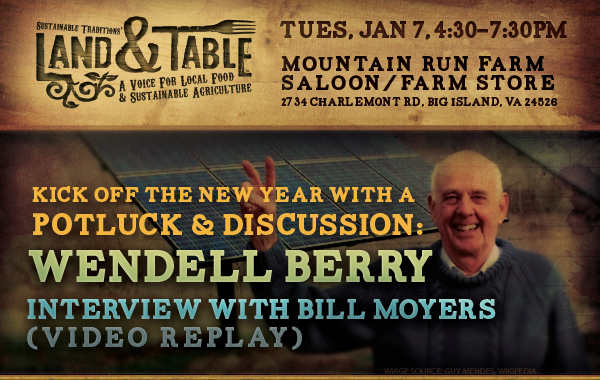 Wendell Berry video interview at Land and Table[/caption] Happy New Year! Happy New Year everyone! We are thankful for all of you who have been involved in the Land and Table community and the local food movement in the Lynchburg regional area over this past year. It has been a delight to help facilitate connections among local farmers, foodies, families and others who are passionate about healthy eating, sustainable agriculture, intentional living and local community. 2014: A Year of Learning As we began in December we will continue in this new year – with our monthly community potlucks featuring skill sharing, peer learning or presentations of interest. Our focus for 2014 is on learning but not on mere head knowledge. We will be attempting to explore: traditional skills (that our generation has forgotten – like soap making, plowing with horses, chicken butchering, etc), sustainable modes of agriculture, community resilience, and other essentials for holistic agrarian and intentional living. We Want To Hear Your Ideas So…we want to hear from you! If you have any ideas for presentations, speakers or skills you would like us to feature this year at our monthly gatherings please let us know. Bring your ideas on Tuesday, leave a comment in the comment section below this article or contact us. This Tuesday: Wendell Berry Interview For our first Land and Table gathering of the year we will be beginning with a presentation of interest. We will be featuring the recent Bill Moyers video interview of Wendell Berry with a discussion afterwards. Mr. Berry is, in my estimation, one of the fathers of the local food movement and an outspoken advocate for relocalizing our agricultural economies and rebuilding local community. I believe he is one of the most important prophetic voices of our times – calling us in this time of crisis back to a life that honors our Creator, His Creation and community. Don't Forget! If you have never been to one of our monthly community potlucks please consider yourself officially invited. If you can't make it this time please mark your calendar for the first Tuesday of each month. We would love to see you sometime soon!
---
DETAILS:
WHAT WILL WE BE DOING?
Community Potluck
Networking (hang out with friends and meet some new ones)
Watching a video interview of Wendell Berry and discussing.
Sharing ideas for presentations we'd like to see this year at our monthly gatherings.
COME PREPARED:
Bring a homemade healthy dish to share. Also, if you can, please label your dish with your name and what you made that would be helpful.
Bring your own dishware (plates, cups, utensils, etc) (help us keep unnecessary trash out of the landfill) (A dishwashing area will be provided).
TIME & PLACE:
Tuesday, January 7, 2013 (4:30-7:30 pm)
Mountain Run Farm
(saloon/farm store – near the pond) in Bedford County, Virginia (Sedalia) Address: 2734 Charlemont Rd, Big Island, Va 24526 (
view map
)
This gathering is open to everyone in the regional community.
Please RSVP by sending an email to: Jason [at] SustainableTraditions [dot] com . Also feel free to RSVP and spread the word on Facebook.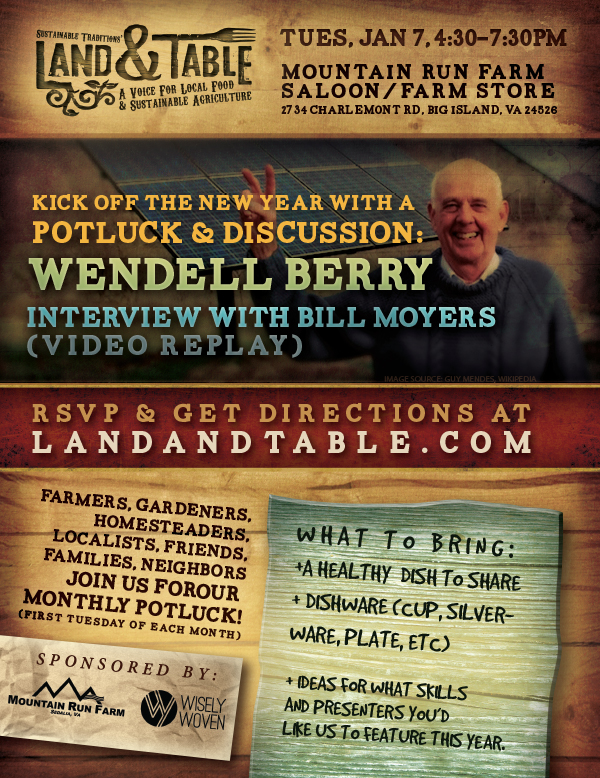 Download the event flyer: (web resolution image)
]]>