<![CDATA[[caption id="attachment_683" align="aligncenter" width="600"]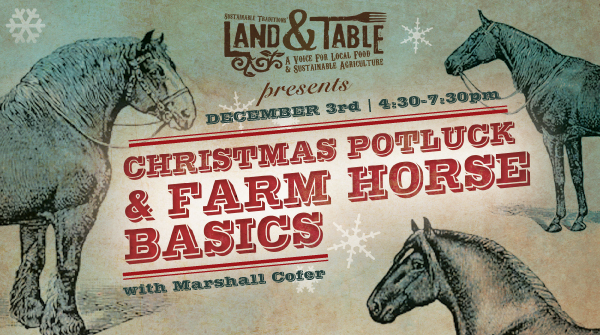 Land and Table: Christmas Potluck and Farm Horse basics[/caption] The Christmas season is nearly upon us and what better way to begin the season than with the monthly Land and Table community potluck. What began two years ago as a monthly forum, has become for many of us, a much-needed rhythm of connection and conversation – a pause in the busyness of life to get together with friends, "neighbors" and other folks of like-mind who share a love of local food, sustainable agriculture and intentional living. What may appear as insignificant, is in my opinion, the seed for a radical shift – from isolation to a more community-focused way of life. We are developing what I call – "potluck culture" – the coming together to bring our knowledge, skills, gifts…and food to the common table – for the mutual benefit of all of us who choose to participate. We really are working towards a revolution of sorts – it is a turning towards one another. It is a re-membering. And this month the revolution continues as we host a talk with local horse master Marshall Cofer of Triple 'F' Farm (see the video below). Marshall is going to be sharing with us his years of wisdom and experience with a short talk on 'Farm Horse Basics'. If you are curious about what to look for when buying a horse, and other beginning essentials come learn from an elder in the equine arts. In the Spring we hope to have Marshall back out for an actual demonstration and further talks on utilizing horse-power around the farmstead. Triple "F" Farm from Douglas Weber on Vimeo.
DETAILS:
WHAT WILL WE BE DOING?
Community Potluck
Networking (hang out with local food movement friends and meet some new ones)
Hearing from local horse expert Marshall Cofer (talk starts around 6:30)
COME PREPARED:
Bring a homemade healthy dish to share (emphasis on sourcing local ingredients but not required). Also, if you can, please label your dish with your name and what you made (helpful but also not required)
Bring your own dishware (plates, cups, utensils, etc) (help us keep unnecessary trash out of the landfill)
OPTIONAL BONUS: If you feel up to it, also bring a holiday dessert or treat to share.
TIME & PLACE:
Tuesday, December 3, 2013 (4:30-7:30 pm)
Mountain Run Farm
(saloon/farm store – near the pond) in Bedford County, Virginia (Sedalia) Address: 2734 Charlemont Rd, Big Island, Va 24526 (
view map
)
This gathering is open to everyone in the regional community.
Please RSVP by sending an email to: Jason [at] SustainableTraditions [dot] com . Also feel free to RSVP and spread the word on Facebook.
Download the event flyer:
here
[pdf http://landandtable.com/wp-content/uploads/2013/11/landandtable-dec-2013-flyer-11-25-13.pdf 600 740]]]>