<![CDATA[[caption id="attachment_534" align="aligncenter" width="590"]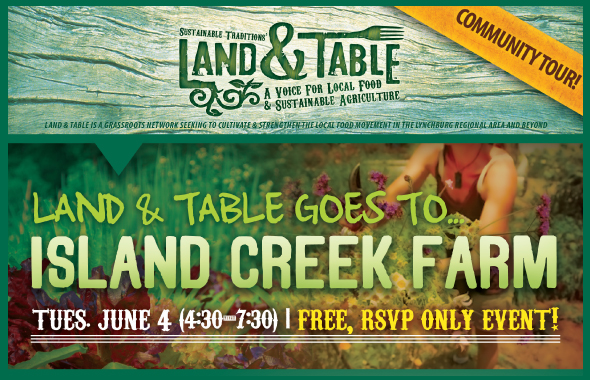 Land and Table at Island Creek Farm on June 4[/caption] We Continue our 'Community Tour' as we explore local food movement hot spots in the Lynchburg regional area with an evening at Island Creek Farm in Bedford County. Join us for a potluck, networking with others in the local food movement and learn the secret art of sheet-mulching for vegetable growing! Our friends at Island Creek Farm, Holly & Troy Brown, provide premiere sustainable produce to a handful of local restaurants and area customers at the Forest Farmers Market. They specialize in bio-intensive, sustainable and permaculture-based vegetable production. In their own words:
"Our farm exists to bring high quality, sustainably grown produce to local people; to improve the land we grow on even as we take from it's bountiful yield; and to nourish and enhance the lives of those for whom we provide healthy food. We practice bio-intensive farming and permaculture to conserve resources and nurture the surrounding systems that support a healthy farm. We are a hand mechanized farm that uses double digging and sheet mulching to establish and maintain good soil structure. We use cover crops and green manure crops to eliminate erosion, develop fertility, make compost and advance soil health, vigor and biodiversity. We rotate crops each season. We allow swaths of native wildflowers and herbs to grow as insectaries for beneficial insects. In turn, these areas bring in wildlife that help control pest populations. We use only open pollinated and heirloom seeds to preserve genetic diversity and we purchase our seeds from "safe seed pledge" companies. We practice seed saving. We capture rainwater for irrigation. We are striving to become as sustainable as possible. Our healthy soil and the vigorous systems surrounding our soil produce wholesome vegetables."
Don't miss this opportunity to get in the dirt with one of the most inspiring local veggie farms in the Land & Table network and the region.
DETAILS:
WHAT WILL WE BE DOING?
Potluck
Networking
Learning secrets of sheet mulching for veggie growing
WHAT TO BRING:
A healthy, homemade dish to share
Lawn chairs or a blanket to sit on
TIME & PLACE:
Tuesday, June 4 (4:30-7:30 pm)
Location address will be given via email or phone to those who RSVP.
This is a free event but you must RSVP to attend. This gathering is open
to roughly around 30 people so

don't wait

to RSVP.
[pdf http://landandtable.com/wp-content/uploads/2013/05/land-and-table-flyer-JUNE-2013.pdf 590 770] (
Download the event flyer
and spread the word!)]]>