<![CDATA[Spring is finally here and we are all busy with work in garden, field and kitchen. But let us not forget that our Creator has given food and medicine to us in abundance right at our feet - and all around us. Join us for a networking potluck at Mountain Run Farm's Camp Sedelia (northern Bedford County) - along with a wild, edible and medicinal plant walk as we survey what is on the Spring menu, to nourish and heal the body. Bring your eagerness to share what you know, and to learn from one another. Newcomers, friends, and children are always welcome. This is a family-friendly event. WHERE: Mountain Run Farm's: Camp Sedalia, 1228 Charlemont Rd, Big Island, VA 24526 (The entrance is right next to Sedalia Baptist Church. Instead of parking at the showbarn/farm store – keep driving straight until you come to the camp (near the tree line). WHEN: Tuesday, April (5-8pm) 5:00-5:45 | Arrive and network 5:45-6:45 | Eat 6:45-8:00 | Wild plant walk and discussion on edible, medicinal plants and wildcrafting. (Bring your walking shoes!) WHAT TO BRING:
Healthy and yummy dinner food to share (please label your dish – if you feel so inclined write out your recipe for those who are interested).
Your own dishware (plate or bowl, cup, silverware ,etc).
Walking shoes (we won't be walking far – don't worry!).
Cash donations are welcome.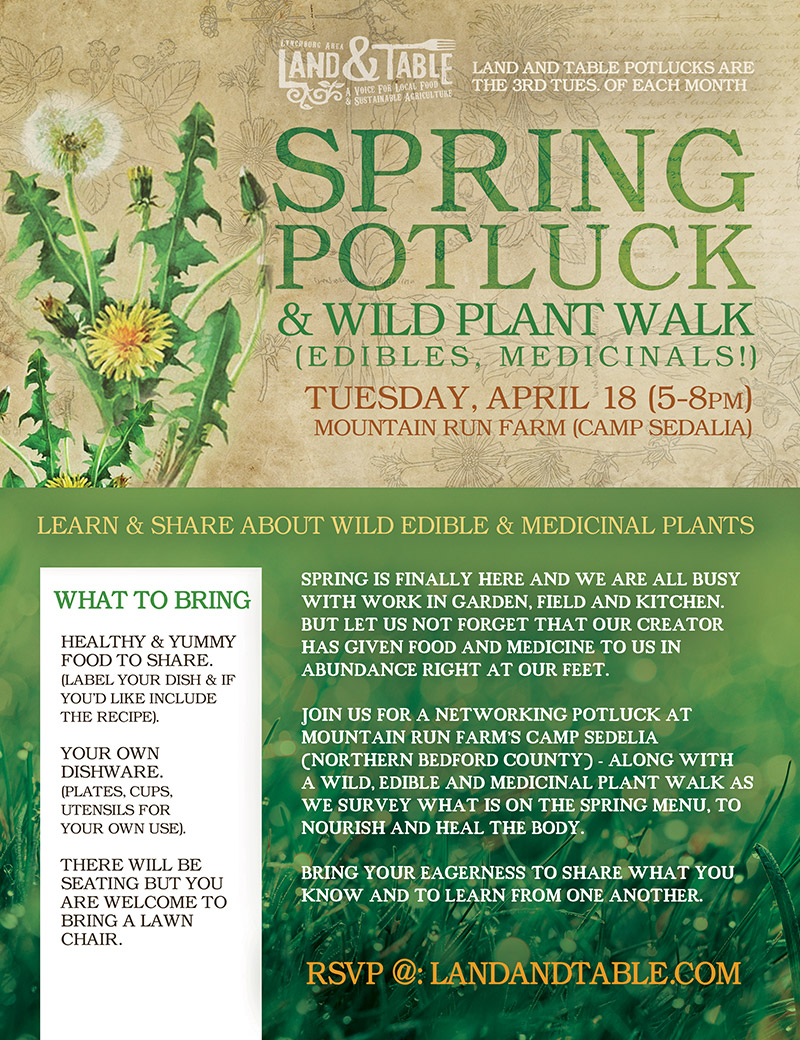 ]]>