<![CDATA[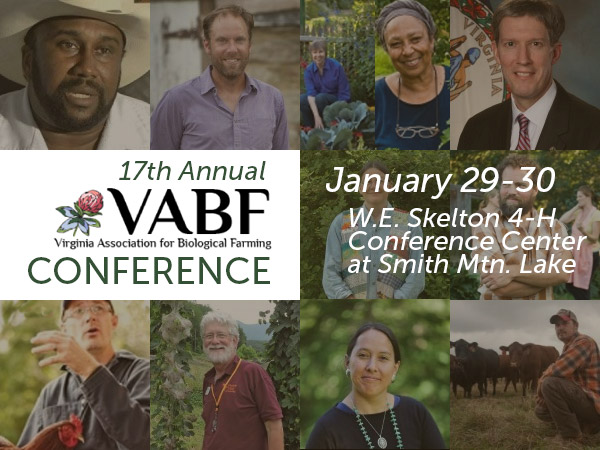 The Virginia Association for Biological Farming (VABF) has been around since the late 70's organizing and supporting sustainable farmers and food producers at the state level. VABF served as an inspiration for Land and Table as we formed to network the local food movement in our region three years ago. Each year VABF hosts a farming conference that brings together a top-notch group of speakers and workshop leaders to encourage the growing shift toward organic and ecologically-minded agriculture and to support the food producers who have already made the transition. This year's 17th annual VABF conference (in collaboration with Virginia Cooperative Extension, and Virginia State University) will be held January 29-30 at the W.E. Skelton 4-H Conference Center at Smith Mountain Lake. We are fortunate to have this excellent farming conference hosted in our area this year and there is still time register. Some of the highlights include: Plenary Speakers:
John Boyd, National Black Farmers Association
Todd Haymore, Virginia Secretary of Agriculture and Forestry
Forrest Pritchard, Organic Farmer and New York Times Bestselling Author
Pre-Conference Workshops:
Steve Groff: Making Cover Crops Pay
Rosalind Creasy, Rowen White & Ira Wallace: Seed Saving School
Nazirahk Amen: Tools and Mechanized Equipment for Successful Small Farms
Jim Adkins: Slow Poultry Strategy Seminar
Concurrent Workshop Sessions:
David Grimsley: Appalachian –Chinese Medicinal Herbs
Rowen White: Seed Stewardship
CJ Isbell: Holistic Integrated Commercial Crop-Livestock System
Barbara Pleasant: The Pantry-Driven Garden
Steve Groff: Cover Crops and Tillage Systems
Jim Adkins: Advanced Poultry for Commercial Purposes & Backyard Poultry
Nazirahk Amen: Nutrient Dense Grain Production for the Small Farm, and Introducing Rice
Dr. Phil Sponenberg: Sustainable Livestock Breeding and Selection
Cindy Conner: Scaling-Up from a Homestead Garden to a Market Garden
Doug Pfeiffer: Managing Invasive Insect Pests Organically
Rosalind Creasy & Ira Wallace: Edible Landscaping – The New American Garden
Other Workshops include:
Livestock
Commercial Horticultural Crops
Gardening
Homesteading
Integrated Systems and the Big Picture
Virginia Innovations in Tomato Growing
Designing a Cropping System Around Pepper Profits
USDA Meat Processing Options for Virginia's Organic Producers
Marketing Journeys of Successful Farms
Virginia's Organic Future: Research
Nurturing Pollinators
Organic Pasture Establishment and Improvement
All about Row Covers
Labels, Laws and Biological Marketing
Growing Healthy Greens
Healthy Cows, Healthy Dairy
Plus:
Tradeshow Exhibits
Local and biologically grown food (including breakfast!)
Taste of Virginia Friday Night Social
Silent Auction
Youth and Kids program
Organic Foods Festival (Potluck)
This conference could be the single greatest investment in your future that you make this year. And for those who are looking for a discounted rate there are
volunteer opportunities available
.
---
Funding to pay VABF conference registrations for Cooperative Extension, NRCS, FSA, VoAg teachers is now AVAILABLE. Farmers market managers, 4H Leaders and similar folks may also be eligible. The USDA-SARE Professional Development Program has generously made funds available for public servants to attend the conference and/or pre-conference workshops. Some agency educational credits are available.
To sign-up for free registration public servants should contact: Eric Bendfeldt – Virginia SARE Director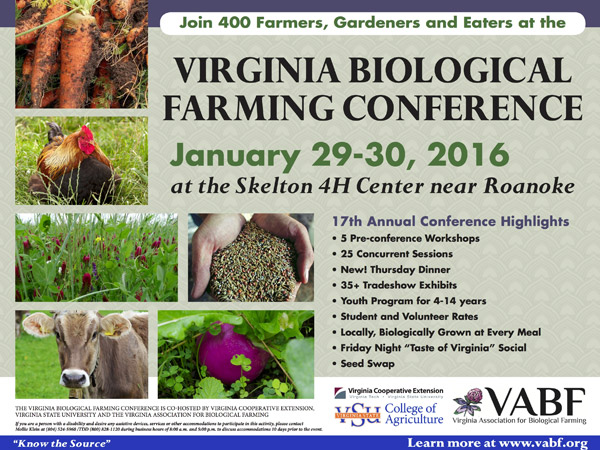 ]]>