<![CDATA[
In 2014 the Region 2000 Local Government Council (LGC) concluded a broad assessment of our region's agricultural and forestry economy. Back in January, as a result of the regional assessment, the LGC was awarded a grant to conduct a feasibility study for establishing a Lynchburg area Food Hub. Food hubs have gained alot of attention in recent years and have been established all over the nation in communities wanting to increase the availability of local foods, build their local economy and create economic opportunities close to home for local farmers and food producers. Generally defined*, a food hub is a: "A regional food hub is a business or organization that actively manages the aggregation, distribution, and marketing of source-identified food products primarily from local and regional producers to strengthen their ability to satisfy wholesale, retail, and institutional demand."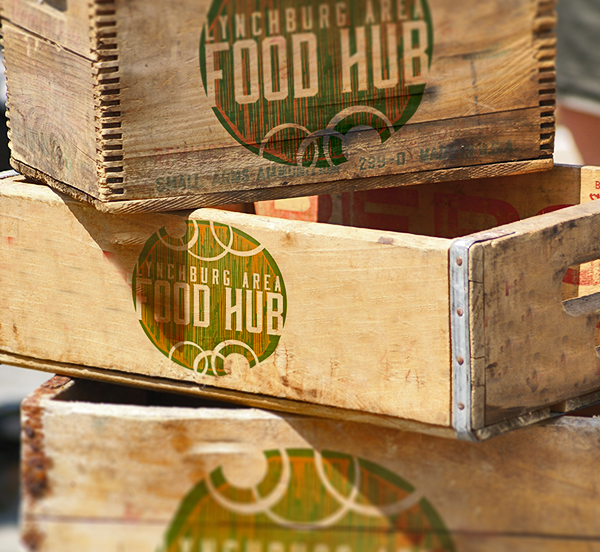 Is a local food hub a viable idea and is it something that would work in the Lynchburg, Virginia region? Join us for a conversation with food systems economic development consultant and researcher Phillip Gottwals of ACDS, LLC (on behalf of the LGC) who is seeking input from local direct-to-consumer farmers and others – about the viability of a local food hub in our area. Learn more about the Food Hub feasibility study and it's potential regional impact; give your input and help shape the future of the food economy in the Lynchburg area. All are welcome but local farmers and food producers are especially encouraged to come and give feedback.
---
Related Resources:
---
Event Details:
When
: Tuesday, August 18 (5-8pm)
(NOTE: New time!)
(5:00-5:45) Arriving and Networking (5:45-6:30) Potluck! (6:30-8:00) Lynchburg Area Food Hub Feasibility Study presentation and discussion with Phillip Gottwals (consultant conducting the food hub study on behalf of the Region 2000 Local Government Council).
Bring
:
A healthy dish to share.
Your own dishware (plates/bowls, forks, spoons, cups for your own use).
Lawn chair or blanket to sit on (there will be some benches as well).
An optional cash donation of any amount (if you benefit from and appreciate the work of Land and Table)
Location
: Camp Sedalia at
Mountain Run Farm
– pull in to the showbarn at
1228 Charlemont Rd, Big Island, VA 24526
but…
keep driving straight back to the camp!
[caption id="attachment_1341" align="aligncenter" width="800"]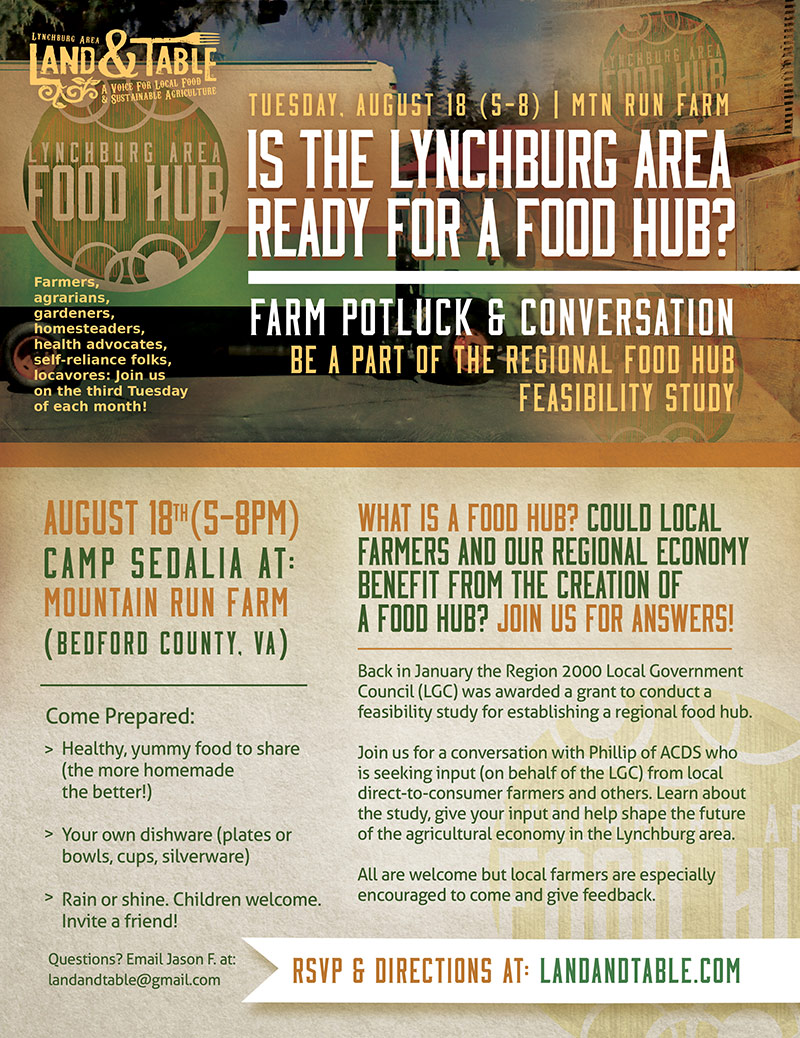 Click on the image to view or download the event flyer[/caption]
]]>