<![CDATA[[caption id="attachment_1061" align="aligncenter" width="600"]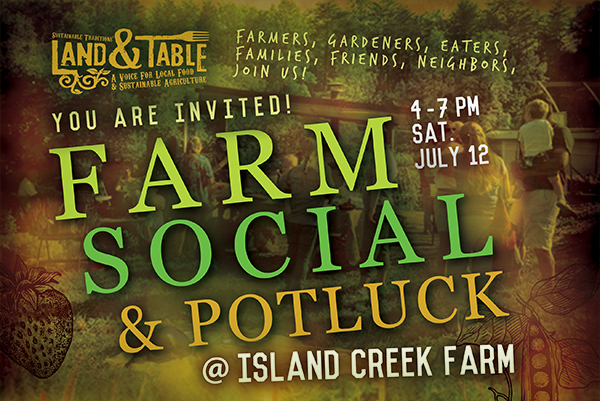 Land and Table at Island Creek Farm July 12[/caption] Back in October of 2013, the front of the News and Advance newspaper blazed the headline 'Ripe for a Revolution'. Above the headline was a picture of our friend Holly Brown among the broad leaves of her okra. Holly and Troy Brown's farm, Island Creek Farm, is a jewel among the farms of Bedford County. Their methods and means of building soil and growing healthy vegetables for the surrounding community is truly a revolution in thought and practice. In the world of industrialized agriculture the paradigm is one of fighting against nature – with chemical fertilizers and toxic pesticides – but for our friends at Island Creek Farm – they have laid down their chemical 'warfare' in exchange for working the land with sustainable principles, learned wisdom, the careful attentiveness of permaculture and the scale-appropriate necessities of human power. Deemed 'primitive' by some who have no understanding of bio-intensive forms of agriculture – the work and wisdom that Holly and Troy have invested on their land is sheer brilliance and it shows in their fertile garden of eden that outshines the outworn and overworked soils of many larger farms in our area. Join us for an evening of networking at this amazing and unique farm with others in the Lynchburg area local food movement – an evening of cultivating community, and inspiration as we meander among the raised beds of Island Creak Farm. Enjoy a healthy foods potluck with fellow gardeners, sustainable farmers, homesteaders, local food lovers, families, neighbors, and new and old friends alike.
DETAILS:
WHAT WILL WE BE DOING?
Networking, eating together, informal tours of Island Creek Farm, enjoying the summer evening together.
COME PREPARED:
Bring a lawn chair, blanket for sitting on or folding chair (we will meet outside) (this is a must as we no longer have chairs available to us for these events).
Bring a homemade healthy dish to share. Also, if you can, please label your dish with your name and ingredients if possible.
Bring your own dishware (plates, cups, utensils, etc) (help us keep unnecessary trash out of the landfill) (A dishwashing area will be provided).
TIME & PLACE:
Saturday, July 12th, 2014 (4:00-7:00 pm)
PLEASE REGISTER FOR THIS EVENT!
Location address will be given via email or phone to those who RSVP. This is a free event but you must RSVP to attend. This gathering is open to roughly around 30 to 35 people so don't wait to RSVP. Please RSVP by using our
Contact page
or by RSVPing
on Facebook
. And spread the word! [caption id="attachment_1064" align="aligncenter" width="600"]
Click on the image to view and/or download the greyscale version of the flyer (around 5MB)[/caption]]]>