<![CDATA[[caption id="attachment_1035" align="aligncenter" width="600"]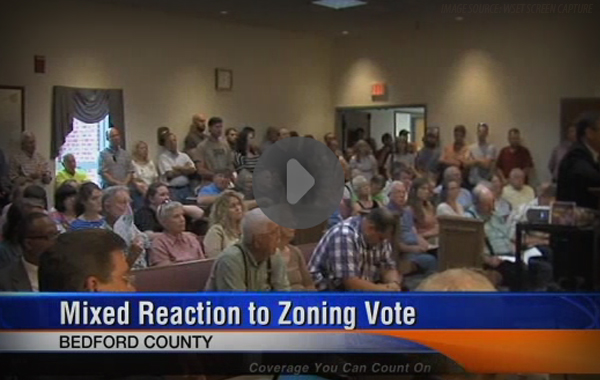 WSET: Mixed reactions to Bedford CAFO zoning[/caption] From WSET:
Bedford County, VA – Changes to the future of farming in Bedford County have divided the agricultural community.

The Board of Supervisors voted 6 -1 to make regulation changes that will allow many more farmers to build poultry and hog feeding facilities in the county.

Supporters of the changes to the long standing zoning ordinance say now Bedford farmers have the opportunity to get into the poultry and swine business.

"Before it wasn't even possible here in the county, because of restrictions they placed on the placement of the buildings" said

Dairy Farmer Matt Proehl.

Proehl says the previous setbacks prevented him from building a chicken feedlot on his property a few years ago. "My family and I are in the dairy business. I wanted something to supplement or go a long with the dairy business. What happened to me was, honestly, it couldn't be done in the county" said Proehl.

Concentrated Animal Feeding Facilities allow farmers to enter contracts with large corporations — like Tyson Foods. However, the opposition says industrializing farming in Bedford is not the best move in the long run.

"They are talking about guaranteed income. These facilities are indeed owned by the farmer" said Farmer Brent Wills.

Facilities, which, Wills says take 100's of thousands of dollars to build and will rely on corporations to run.

"I don't see that argument holding up when there's really no guaranteed income from anything especially from a biological system like agriculture" said Wills.

Wills says he doesn't believe the board really considered the social and environmental issues a long with the economic benefits.
+ WSET.com – ABC13 +
(link to video)
——————————– Previous Story:
A local group is fired up about possible changes to Bedford County's zoning regulations. The Bedford County Agricultural Economic Development Advisement Board is pushing for changes that would allow for more chicken and hog concentrated feeding facilities in the county.

Ag Board Chairman Jeff Powers says the board came to the decision to support the changes after researching and visiting local feeding facilities for the last six months.

He says the feeding farms would allow farmers to work out contracts with large corporations to make more money. "If it is someone who is already farming then that's a second product. A crop farmer may not get but one check a year and if the weather is bad he might not get that. This would be a guaranteed income" said Ag board chairman Jeff Powers.

However, the local community group Land and Table says there are long term consequences to bringing in these large corporations. "As a community we should not be listening to the promises of corporate agro-businesses" said Land and Table co-founder Jason Fowler.

The board will be holding a public hearing on the matter on June 9th.
]]>