<![CDATA[[caption id="attachment_749" align="aligncenter" width="600"]
Join us April 12th at Mountain Run Farm saloon[/caption] New Monthly Time and Format Land and Table has been hosting monthly community gatherings since November of 2011. Since our beginnings we have primarily met on the first Tuesdays of each month but that is about to change. Starting Saturday, April 12th (3-7 pm) we are launching a new meeting time (second Saturday of each month) and format that we hope will help further galvanize, connect and equip local producers and consumers to advance, support and engage in sustainable, ecologically-minded agriculture. Land and Table has long held connecting the local food movement and promoting sustainable agriculture as it's highest priorities. Now it is time to mature our vision and voice through more direct actions and engagement in shaping the culture, values and priorities of the region.Will you join us in becoming an outspoken advocate of sustainable agriculture and the holistic flourishing of our region, our counties and our neighborhoods? Raising Our Collective Voice As I mentioned our next community gathering on Saturday April 12th will begin our new monthly meeting time and an expanded format. Our times together will continue to feature networking and the best potluck in the entire area. We will also continue to host open, themed forums for you to speak your mind on critical topics related to local food, sustainable agriculture, local economy and intentional living. During this month's forum we will be discussing ways to raise our collective voice on multiple fronts: at a local policy level (participating in local, political discourse), at a collective economic level (joining our wallets to advance local, sustainable family farms), and through outreach/education throughout the area. Put Your Money Where Your Mouth Is Additionally we will also be hosting an informal market at our monthly gatherings where you can stock up on beyond-organic and sustainably raised meats, produce and other local farm products. We plan on cultivating and growing this informal evening market throughout the year and hope it will become a convenient way for us all to put our money where our mouth is in committing to increase our food budgets to support local, sustainable producers and food artisans. RSVP and Spread the Word One final thing – help us by spreading the word, bringing a friend and letting us know you are coming by RSVPing on Facebook or by using our Contact form here on the website. We look forward to seeing you there!
---
DETAILS:
WHAT WILL WE BE DOING?
Community Potluck
Networking (hang out with friends and meet some new ones)
Open forum: topic – Raising Our Collective Voice / Advancing Sustainable Agriculture In the Region
Informal market
COME PREPARED:
Bring a homemade healthy dish to share. Also, if you can, please label your dish with your name and what you made that would be helpful.
Bring your own dishware (plates, cups, utensils, etc) (help us keep unnecessary trash out of the landfill) (A dishwashing area will be provided).
Bring a lawn chair or folding chair.
Bring some money and a cooler to purchase some grassfed beef or other local, sustainably raised/grown farm products.
TIME & PLACE:
Saturday, April 12th, 2014 (3:00-7:00 pm)
Mountain Run Farm
(saloon/farm store – near the pond) in Bedford County, Virginia (Sedalia) Address: 2734 Charlemont Rd, Big Island, Va 24526 (
view map
)
This gathering is open to everyone in the regional community.
Please RSVP by sending a message via our Contact page. Also feel free to RSVP and spread the word on Facebook.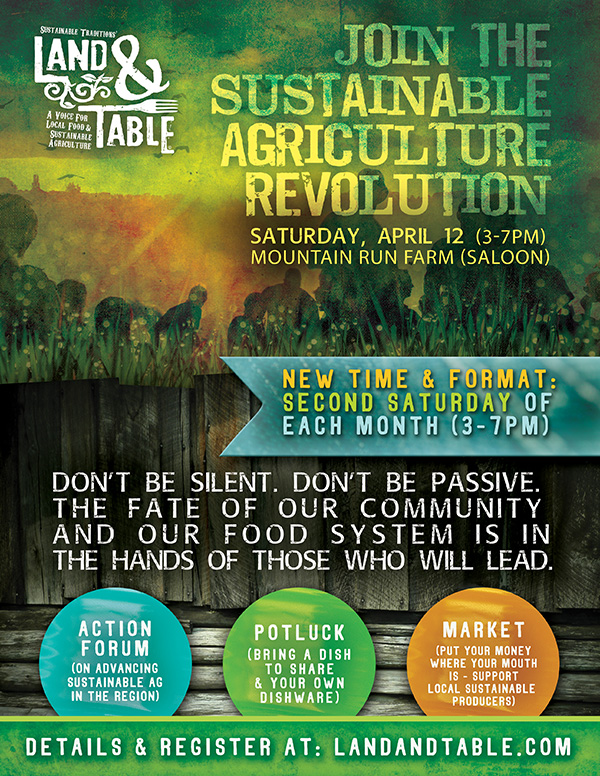 Click on the image above or here for a black and white printable PDF of the event flyer (5 MB)
]]>