<![CDATA[[caption id="attachment_297" align="aligncenter" width="590"]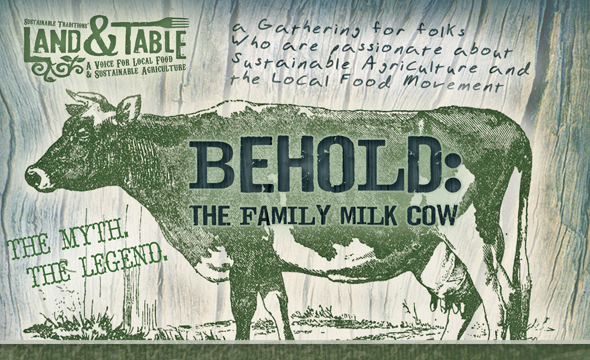 Land and Table September 2012 gathering: Behold the Family Milk Cow![/caption] The Land & Table movement continues to gain momentum as we explore a new way of living – a way of life that is full of mended connections- connection with one another, connection with GOD's Creation, connection with our human vocation of cultivating and caring for the land, connection with our local economy, connection with the heritage of previous generations as we reclaim lost skills and wisdom – and connection with…the mysterious Family Milk Cow! Long-thought extinct – this wonder of creation is no longer merely a myth or legend confined to children's books and fairytales! Come see a live hand milking by Ben Coleman of Mountain Run Farm. Be amazed as you experience first-hand the source of your milk!
Come out September 4th, 2012 (4:30-7:30pm) to the
Mountain Run Farm
store/saloon for our monthly Land & Table gathering. What you need to bring:
A healthy, yummy dish to share (local ingredients are a plus)
Lawn chairs or blanket for sitting on
Dishware (plates, cups, silverware, etc) – a dishwashing station will be provided
4:30 – music and networking 5:30 – potluck and eating 6:30 -7:30 – milking demonstration and then open forum Forum topic: "Defining sustainable agriculture"
Location: Mountain Run Farm (Bedford County) – 2734 Charlemont Rd Big Island, VA 24526
Please let us know you are coming by RSVPing on the Land & Table Facebook page or via our contact form.
(
Download the event flyer: here
or see below)
[pdf http://landandtable.com/wp-content/uploads/2012/08/land-and-table-sept-2012-flyer-lo-rez.pdf 590 700]
]]>