Winter Medicinal (Bedford) – 11/16/21
11/16/2021 @ 6:00 pm

-

8:00 pm

Free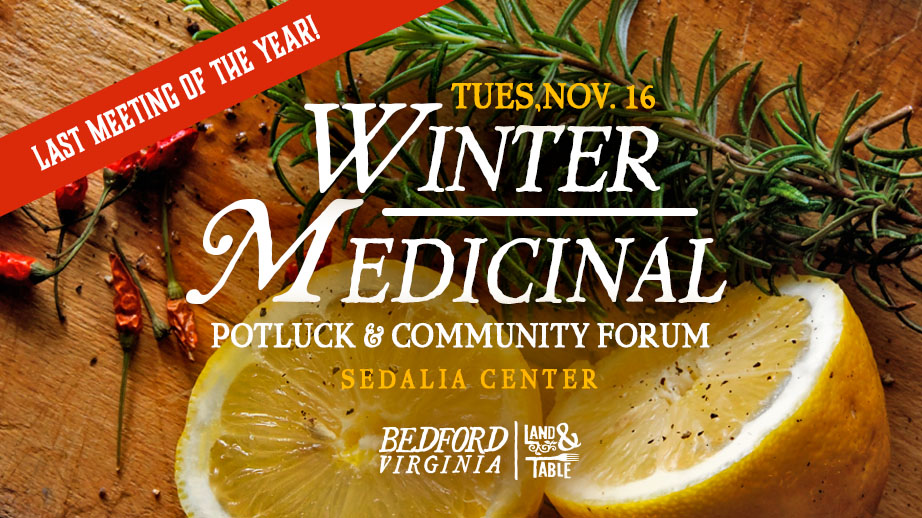 Are you prepared to care for your health and the health of your family this winter? There is an abundance of food, herbs, and nutrients that we can use to holistically stay healthy during the cold and dark winter. We need to grow in our ability to not just mask symptoms with off-the-shelf medicines but to support our body's natural healing processes.
Join us for the final Land & Table meeting of the year on Tuesday, November 16 (6-8pm) – with potluck and open community forum at the Sedalia Center in northern Bedford County. Topics explored will include:
– Effective natural home remedies that actually work.
– 'Food as medicine' – what widely available whole foods should you stock in your kitchen this winter.
– Supplements: pro's, con's, and are they really worth the money?
– Herbal apothecary: using daily herbal teas and tinctures for optimal health.
– Empowered health: recovering quickly from illness using foods, herbs, and supplemented nutrition.
– How to discern real natural remedies from 'snake oil' solutions.
– Eating well for proper sleep and emotional health.
Come with questions and a willingness to share about your natural home remedies and whole foods you use to stay healthy during the winter months.
This will be an open community forum and all are welcome.
WHAT TO BRING:
-This is a potluck. Please bring a main dish to share. (Or your own dinner if you do not want to participate in the potluck).
-Your own dishware (plate, utensils, etc).
NOTE: THIS IS THE FINAL L&T EVENT OF 2021! DON'T MISS IT! This is an indoor event and is rain or shine.
Kids are welcome but we ask that you bring quiet games or sit down activities to keep them occupied during the forum.
PLEASE NOTE: As always, if you are under the weather we ask that you stay home and rest. Because…there are some things that are not good to share 😉