Storm Riders: Thriving In Uncertain Times (Bedford) | 10/19/21
10/19/2021 @ 6:00 pm

-

8:00 pm

Free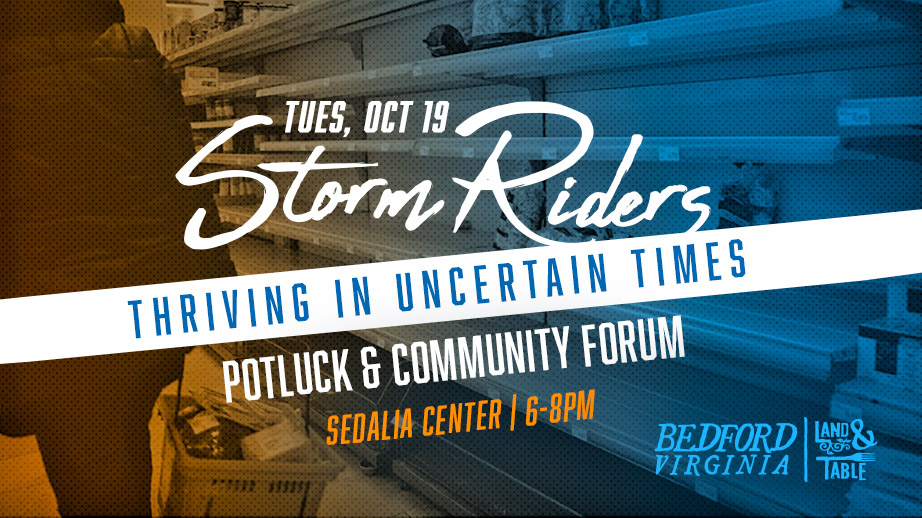 These are uncertain times. Global supply chain problems and rising prices are two major issues that are beginning to have more and more impact on our day-to-day experience. This is especially true at the grocery store. How can we feed our families and thrive in the ups and downs of a volatile economy and uncertain times?
Join us for the monthly meeting of the Bedford Land & Table (3rd Tuesday of each month) – this time with potluck and open community forum on Tuesday, October 19 (6-8pm) at the Sedalia Center in northern Bedford county. We will be discussing some or all of the following (as time allows):
What is true resilience?
Eating healthy on a tight budget.
Rethinking our dependence on grocery stores.
Solutions for local, communal and personal food production.
Buying clubs and buying in bulk.
Stockpiling food: pro's and cons.
Mutual aid and the barter economy.
Sourcing local foods from local farms.
Feeding a big family.
Starting a home garden.
Should you start raising chickens?
Prepping for major weather events and other shelter-in-place crisis.
Living in the "long emergency".
We encourage you to come with questions and a willingness to share your own experiences regarding this topic. This will be an open community forum and all are welcome.
WHAT TO BRING:
-This is a potluck. Please bring a main dish to share. (Or your own dinner if you do not want to participate in the potluck).
-Your own dishware (plate, utensils, etc).
NOTE: This is an indoor event and is rain or shine.
Kids are welcome but we ask that you bring quiet games or sit down activities to keep them occupied during the forum.
PLEASE NOTE: As always, if you are under the weather we ask that you stay home and rest. Because…there are some things that are not good to share 😉