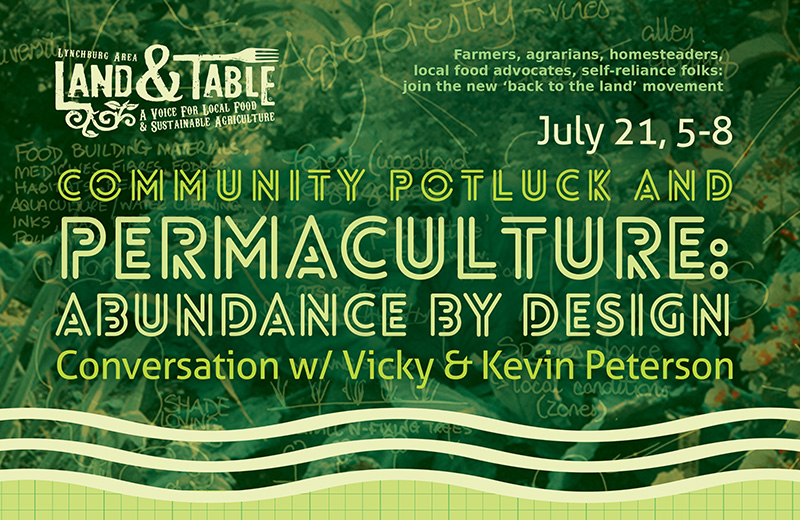 Our July Land and Table potluck is coming up Tuesday, July 21 (5 to 8pm) at Mountain Run Farm's Camp Sedalia. This month we will be discussing permaculture – basic concepts, and why it is one of the most critical forms of ecological agriculture and multi-faceted design systems of our times. If you have never heard of permaculture or are not familiar with basic permaculture principles this will be a great introduction. If you are familiar with permaculture please join us for an open conversation and share your perspective.
Joining us in a 'question and answer', conversational format will be local permaculture practitioners, Kevin and Vicky Peterson. Kevin spends his work life at Lynchburg College teaching mathematics and serving as the sustainability coordinator. At home, he works with Vicky refining their permaculture design on their homestead in Amherst County. Vicky completed her Permaculture design certification  in '07 and Kevin finished his earlier this year. Raising happy kids, growing healthy food, loving their land and trying to live sustainably is their goal.
Land and Table monthly potlucks are open to anyone in the regional area – especially anyone who is passionate about sustainable/ecological agriculture, local food, homesteading, gardening, agrarian skills, farming, growing our local foodshed, healthy eating/living and supporting the local economy. Our monthly potlucks are a great way to network and fellowship with others in your community who are like-minded and interested in community-building. Join us!!
Resources:
Permaculture defined (wikipedia.org)
Permaculture Ethics and Design Principles (poster for download)
Essence of Permaculture (downloadable PDF introduction by David Holmgren)
Blue Ridge Permaculture Network
---
Event Details:
When: Tuesday, July 21 (5-8pm) (NOTE: New time!)
(5:00-5:30) Arriving and Networking
(5:45-6:30) Eating and Hanging Out
(6:30-8:00) Permaculture conversation with Kevin and Vicky Peterson
Bring: 1) A healthy dish to share. 2) Your own dishware. 3) Lawn chair or blanket to sit on (there will be some benches as well).
4) An optional cash donation of any amount (to help us grow Land and Table)
Location: Camp Sedalia at Mountain Run Farm – pull in to the showbarn at 1228 Charlemont Rd, Big Island, VA 24526 but…keep driving straight back to the camp!